Study to shew thyself approved unto God, a workman that needeth not to be ashamed, rightly dividing the word of truth.
2 Timothy 2:15
When I was a child, most of my family lived in my neighborhood. My paternal Grandfather took the farm in which his home was built and subdivided it into lots for all of his nine living children. He had great foresight and made the roads in the neighborhood four lanes wide because he believed one day everyone would have at least two automobiles and people would need street parking. He named each street after the middle name of his children. Since there were more lots than children, my mother's family ended up buying several of the lots and building houses in the neighborhood as well. When entering the neighborhood from the main road, one went up a slight incline. On that hill, my paternal Grandmother resided. Then one went down the hill to a culvert cut by my grandfather and enclosed by limestone walls to drain the land. Close to this culvert, my maternal Grandmother resided. From there one went up the next hill to my house. The happier days of my childhood were spent running up and down those two hills to visit both sets of grandparents and my various cousins in the neighborhood. On Tuesday mornings, my maternal Grandmother had a Bible Study/Prayer Meeting in her home. These studies were very in depth with most of my Aunts toting a particular book in addition to the Bible with them. As a child, those books seemed incredibly large to me. They were called, "Strong's Exhaustive Concordance of the Bible." Now this concordance was written by Dr. James Strong between 1822 and 1894, but when I was a child, I just thought it was called Strong's Concordance because you had to be really strong to carry it. I would carry it for my mother on Tuesday mornings and its weight seemed particularly cumbersome going up and down those two hills.
However, I learned this book's weight and girth was worth it because before the days of Bible apps and Bible Gateway, if one could only remember a few words in a verse, one could look up that word in the front of the book. The words are in alphabetical order like a dictionary. Every scripture that uses that word is listed in the order in which it appears in the Bible. Mr. Strong lists a five word phrase from the Bible containing the word, then the chapter and verse in which it is found and lastly, a four digit number. In the back of the concordance is the Hebrew, Aramaic and Greek dictionary. Using the 4 digit number listed with the English word, one can look up the four digit number and find the Greek, Aramaic or Hebrew word and its meaning. What I learned to do in those Tuesday morning Bible studies was to let the Bible interpret the Bible. If my Aunts came across a word whose meaning was unclear, they would look it up in the Strong's, find its four digit number and then look up all the other scriptures that used that specific word with that specific four digit number. After reading out loud several of the other scriptures using that word, the context gave a good idea of the word's meaning.
Nowadays, my Strong's concordance is not often used because the E-sword App uses Strong's 4 digit numbers. It looks up the scriptures for you and gives you their Hebrew or Greek definition with just a few clicks. It's really easy and you don't even have to be strong to use it but you may become a much stronger Christian by using it.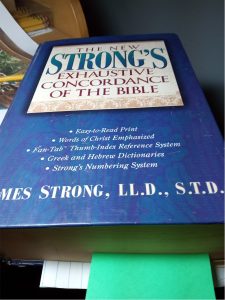 Latest posts by Honey Banzhoff
(see all)