They say to write what you know.  (Who are they BTW?) I don't know an abundance of stuff.  I'm better at tiny little tidbits of useless information.  I love to read, and I pick up little bits of trivia that no one cares about, and then I recite it when the subjects come up, if they do.  However, there is one thing that I absolutely know.  God has promised certain things.  God doesn't lie.  God always fulfills His Word and promises.  I can't recite all the promises, but I did go and find a list.  So, here goes.
      God promises to strengthen us.  Ephesians 3:14-16, For this reason I bow my knees before the Father, from whom every family in heaven and on earth is named, that according to the riches of His Glory He may grant you to be strengthened with power through His Spirit in your inner being.  This could mean strengthened in your body, your mind, or your spirit, whatever the need may be.  We can lean on Him when we have no strength to continue. 
In our weakness, He is strong.
      He promises to give us rest.  Matthew 11:28-30, Come to me, all who labor and are heavy laden, and I will give you rest.  Take my yoke upon you, and learn from me, for I am gentle and lowly in heart, and you will find rest for your souls.  For my yoke is easy and my burden is light.  We work hard.  Our human bodies were made to need rest.  Whether it is from physical or mental work, or spiritual warfare, we will need rest.  He will fight for us.  When we bind ourselves to Him, or become yoked to Him, He takes on our burdens.  We don't have to do life alone.
      He promises to take care of all our needs.  Philippians 4:19, And my God will supply every need of yours according to His riches in glory in Christ Jesus.  There is no need that is too big for God.  Yes, we're expected to work when and if we can.  He expects us to do our part, to use our common sense.  You all know the story of the man that was stuck on his roof in the flood.  He prayed for God to help him.  Three times a man in a boat came to help him, and three times he turned help away because he was praying for God to do it.  Well, pay attention.  God was doing it.  However, there will be times that no matter how hard we work, we will need deliverance and help from God.  He promised to do it,  and He will!
      He promises to answer our prayers.  Matthew 7:7,  Ask, and it will be given to you; seek and you will find; knock, and it will be opened to you.  There is never a prayer that has or is not or will not be answered.  It may not be the answer we want, but God knows better than us.  He will answer you.  We may have to wait.  God's timing is not ours, but He will answer you.  
      He promises to work everything out for our good.  Romans 8:28, And we know that for those who love God all things work together for good for those who are called according to his purpose.  I have been in the middle of the biggest, ugliest, slimiest pit of a mess, and God not only delivered a ladder, he made it a pretty picture.  Yes, there are consequences for wrong decisions.  I have been in situations that were not my fault, and God turned it to favor me.  He doesn't mess around.  
      He promises to be with us.  Joshua 1:5, No man shall be able to stand before you all the days of your life.  Just as I was with Moses, so I will be with you.  I will not leave you or forsake you.  He did not create us to do this life alone.  He created us to do it with Him.  Hallelujah!  Think about it.  Why would He create us to spend time with us, but not do it.  He made us in His image.  He is the creator of relationships.  He will not leave us. We were created to  need Him, and He will not fail our need.  I can remember feeling alone at times in my life, but looking back, I know that certain situations would not have ended up the way they did without Jesus.
      He promised to protect us.  Psalm 91:2, I will say to the Lord, "My refuge and my fortress, my God in whom I trust."  Ever been in a traffic jam?   I heard someone call it God's detour.  That is what I call them now.  Ever forget driving home or to work and yet, there you are?  Who was driving?  Ha!  You all know what I'm talking about. Enough said.
      He has promised freedom from sin.  John 8:36, So if the Son sets you free, you are free indeed.  He isn't lying.  He came to earth, became man, was tempted by the same stuff we are, never sinned, was crucified, conquered hell and the grave, and rose again, for you!  If you ask Him into your heart, you have been set free and you will spend eternity in heaven with Him. Amen!
      He promised nothing can separate us from Him.  Romans 8:38-39, For I am sure that neither death nor life, nor angels nor rulers, nor things present nor things to come, nor powers, nor height nor depth, nor anything else in all creation, will be able to separate us from the love of God in Christ Jesus our Lord.  We can make a decision to not follow Him, or to turn our backs on Him, but nothing of this world can keep us from Him.  I mean nothing.  No sin in your life, if confessed and repented of, will separate you from Jesus.  Nothing!
      He has promised everlasting life.  John 3:16, For God so loved the world, that he gave His only Son, that whoever believes in Him should not perish but have eternal life.  What better way to end.  He loves us.  So much that he sacrificed His only Son for you, and for me.  Jesus' death fulfilled the law and profits.  Everything about His life on earth came to pass so that we can be with Him forever in Heaven forever.  
      These are not all of His promises.  This is only ten of them.  But they are ten great ones.  If you're struggling.  If things don't make sense.  Stand on what you know.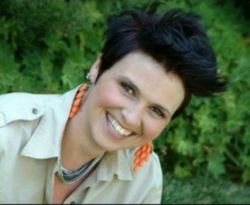 Latest posts by Bonnie Smith
(see all)