You may or may not know this about me.  When I worship, I put my whole self into it.  I don't stand still.  I actually think it is impossible for me to do so.  My husband and I and a few friends recently went to an event.  This event was labeled a "concert".  Let me tell you what it was not.  It was not a concert.  It was worship.  
      I had recently gone to another event that had been labeled as such.  They were correct.  It felt more like entertainment than what I was hoping for.  Don't get me wrong, it was great.  The music was wonderful, the vocals were perfect.  I knew and could tell that the people leading loved Jesus.  It was just a bit more theatrical than what I thought it was going to be.  The most recent experience was different.
      Brandon Lake came out on the stage and basically said, if you're here to be entertained, that is not what we're going to do.  We want you to participate.  They have called the summer event Miracle Nights.  He began to talk about the miracles and deliverance they have witnessed just in the eight nights of the event so far.  (Not consecutively in the same place)  I'll be honest, I know God works and moves.  I have even been witness to what I believe to be moves and miracles of God.  I don't know why, when I hear about these things, I immediately think, really?  
      I felt convicted.  I go around telling people to have faith.  That Jesus is the answer to everything.  You need deliverance, Jesus.  You need comfort, Jesus.   You need a move, Jesus.  I believe these things.  I do, but not always for myself or the things I'm praying for.  Even when I'm praying for someone else.  I think they will get a better result if someone else prays.  Wrong!  
      Brandon reminded me/us of Ephesians 3:20.  Now to Him who is able to do immeasurably more than all we ask or imagine, according to His power that is at work within us…  He can do more than I can or could or will ever imagine.  
      I think in my past I got discouraged, maybe I experienced let down, because I prayed and felt like I saw no change.  Well, never once does His word say, pray once and if you don't see your miracle, just be okay with it.  It says to push through.  Keep praying.  It says if we ask for Him to work in His will, He will do it.  
      You all…this has lit me up!  I am going to keep praying.  I am going to keep seeking.  I am going to push through.  I will do it for a yes and for a no and for a not yet.  I will keep praying for you.  Keep praying for me.  Let's come together whenever we have the chance and push through with prayer and worship until we see our miracles.  I want to be the person that is labeled "On Fire for Jesus"!  
      Brandon said one more thing that got me.  What does someone who is on fire look like?  They jump around.  They move.  They're not still.  I will never let my worship fire die.  Let's be the fire.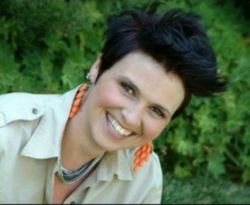 Latest posts by Bonnie Smith
(see all)