This last week I was blessed enough to go to camp as a counselor for girls aged 14-18.  We have a theme each year that usually has to do with building the girls up.  We try to help them see their worth in Jesus and that they are loved, worthy, and beautiful, just the way that God made them.  This year our theme was, "Exactly What The World Needs".  The more and more I thought about it, that became true for myself.  
      Let's face it, the world seems pretty dim right now.  The political situation, war in Europe, rising gas and food prices, can make the best day seem not as wonderful.  There is a desperation in the hearts of men and women everywhere.  A lot of people are wondering how much worse it can get, and others are saying, surely Jesus is coming back soon.  We are searching for answers and worrying about our families and friends. 
      More than a few scripture verses come to my mind.  One is Psalm 121:1,  I raise my eyes to the mountains.  Where does my help come from?   My help comes from the Lord, the Maker of heaven and earth.  Actually, that whole chapter is pretty awesome for a time such as we find ourselves.  He made the earth and everything in it.  None of this is coming as a surprise to Him.  He is the mountain I raise my eyes to.  He has not ever let me down, He isn't going to do it now.  Second, is Esther 4:14, For if you keep silent at this time, relief and deliverance will rise for the Jews from another place, but you and your father's house will perish.  And who knows whether you have not come to the kingdom for such a time as this?  
      So essentially, Jesus is our help and He is going to use us to do what needs to be done.  This is so ferocious in my heart right now.  I don't need to worry.  Jesus says don't worry about tomorrow, it has its own issues.  He has our back at all times.  This doesn't mean that everything is always going to go our way.  The world is broken.  It does mean that He will be with us through all of it.  The real nitty gritty is this,  He will get done whatever he wants done whenever He wants it done.  You can refuse or ignore the calling He gives you.  He would so much rather use you for the plans He made for you.  On this side of Glory, we may never understand all the whys, we will however find fulfillment in Him and what we are doing if we listen and follow Him.  
      I don't want to make it seem complicated because it really is that simple.  Jesus calls us, He protects us, He empowers us, and He equips us for that which He calls us.  So right now I pray boldness comes over you.  I pray that He will present opportunities for us to share Jesus with someone.  We have the answer to all the questions.  We have the cure to all diseases.  We have it in our hearts and I pray that those words come bubbling up out of our spirits and through our mouths so those that need to hear will hear.
WE ARE EXACTLY WHAT THE WORLD NEEDS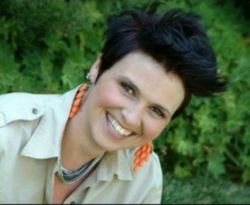 Latest posts by Bonnie Smith
(see all)