Throughout my life I can honestly say I can't remember a time that I didn't believe in God. As a child, my family, sporadically, attended different churches with different denominations. I went to loads of Vacation Bible School programs during the summer and even was a part of the youth group here, at Grace, during my early high school years. 
As far as I can remember I've talked to God constantly. When I became a teenager I remember hearing students in High School make passing comments about God and frustratedly thinking they were stupid for not believing in Him. However, I wouldn't have considered myself a Jesus follower. At least not in the sense I see myself now. 
It wasn't until I was older that I realized that believing there was a God and surrendering my life to Him were totally different things. 
What I remember most about the limited church experiences I had were; fear, guilt, and shame.
I see now, the issue wasn't the churches or pastors that made me feel that way, it was my limited and misguided understanding of who God really was that did. 
I spent a lot of my life feeling as though God was disappointed in me and no matter how hard I tried I couldn't get it right. I struggled with my worth and my significance in the world. I didn't know what I wanted to do with my life or if I mattered to anyone at all. Because of those feelings, every time I would sit in a message about Jesus or hear a sermon, I would feel as though I needed to be saved. That feeling led me to, almost always, going to the altar and giving my life to Christ. Having that "salvation" experience over and over. 
I know, it's not a bad thing to continually surrender your life to Christ! The issue I had was I didn't understand that if I fully gave my life to Him, I could move past that stage and into another one. I never felt fully secure in my salvation and because of that I couldn't move past that marker and into a deep walk with Jesus. 
I think this feeling was one of the reasons I only ever had a surface relationship with God, because I was never able to allow myself to get to know Him as more than just my Savior but as Lord. 
This is something that I have to be very intentional about in my walk with Jesus, even today. I have to remind myself that God wants so much more for me than to just save me from Hell. He wants to give me an abundant life here too, not just in eternity! 
John 10:10 says
"I come that they have life, and have it abundantly."
I heard, recently, a great mini sermon on how to know your eternity is secure. From that message I took away three pieces of evidence that I wish I would have known when I first began my journey with Jesus. These things are something I'm going to use as encouragement and a reminder for myself when the devil tries to whisper those old lies back into my heart.
1. Conviction of the Holy Spirit 
The Holy Spirit will convict us when we are moving in an ungodly direction or doing something that is sinful. This voice is placed in our spirit to guide us in the ways of the Father and it is an evidence that The Holy Spirit lives in us!
The Bible says in Romans 8:14
"For all who are led by The Spirit of God are children of God"
2. Repentance
Eerdmans Bible Dictionary defines repentance as: "a term for a complete change of orientation involving a judgment upon the past and a deliberate redirection for the future."
The Bible speaks often of repentance and turning away from your sin. This is in direct relation to the expectations of someone after salvation, an evidence of being led by The Holy Spirit.
Acts 3:19
"Now repent of your sins and turn to God, so that your sins may be wiped away."
Proverbs 28:13
"People who conceal their sins will not prosper, but if they confess and turn from them, they will receive mercy."
Matthew 3:8
"Prove by the way you live that you have repented of your sins and turned to God."
And finally
3. The Fruits of the Spirit 
God reminds us in Galatians 5  "Christ has truly set us free" the chapter goes on to tell us that we are to live, not being bound by sin but by being led by the Spirit and those who are led by the Spirit are eternally secure because we are the children of God! Because we are children of God we will begin to look more and more like Him and display the evidence of that in the form of The Fruits of the Spirit. 
Galatians 5:22a
"But the Holy Spirit produces this kind of fruit in our lives: love, joy, peace, patience, kindness, goodness, faithfulness, 23 gentleness, and self-control."
I am so glad God finally got through to me that my salvation was secure in Him. 
That my feelings don't dictate His love for me or my salvation. 
Finally, understanding that, has changed my life and my walk with Him forever! I no longer have to stay stuck in guilt or shame! I can't sin my way out of His kingdom and His plan for my life! And the most unbelievable thing is, He offers that to EVERYONE! Always! Without fail or reconsideration! 
I'm encouraging you, anytime you feel the lies of the enemy, remember with me…
Romans 8:33-34
"Who dares accuse us whom God has chosen for his own? No one—for God himself has given us right standing with himself. Who then will condemn us? No one—for Christ Jesus died for us and was raised to life for us, and he is sitting in the place of honor at God's right hand, pleading for us."
If God doesn't condemn us, then what right do we have to do it to ourselves?!
Pray with me!
Jesus, I thank you for making it so clear to us that we no longer have to hold onto our guilt and shame, that we can come boldly to your throne because you have chosen us and set us apart. God, I ask that you would help us to see ourselves as your children and that we are able to grow deep in our relationship with You. That you would help us to see you as Lord and not just Savior! We love you Jesus, in Your name we pray.
Amen!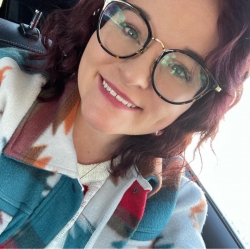 Latest posts by Jessica Evans
(see all)