I love the song, "The Blessing".  I am in awe of the fact that I have seen it play out and I have faith that I will get to watch it continue.  My Pappaw and Mammaw had three children.  Through those three, God blessed them with nine grandchildren, twenty-one great grandchildren, and nine great great grandchildren with a tenth on the way.  The miracle and blessing not just being in the number, but the fact that we all, along with our spouses, know the Lord.  I have faith and confidence that my own son-in-law and daughter will teach my grandbaby, (due any day now), who He is as well. 
I can remember walking into my grandparent's and my childhood home to the sounds of prayer.  I can not imagine where I would have ended up without those prayers.  They kept me close  to Jesus, never able to escape His presence.  I couldn't run from it, because I was never without the evidence that He was there.  I was blessed and am continuing to be blessed because of the blessing that was placed on my heritage.
I am grateful for several reasons.  I know my eternal home is not here on this earth.  I'm grateful to have been placed here in the care of the parents God gave me.  My Dad and Mom are both with Jesus.  I will get to see them again. My children have relationships with Jesus and therefore will guide and direct their own children in the ways of Jesus. That means that when I leave this world, I'll see them again as well.
Sometimes I feel a heaviness in my spirit for the way that things seem to be going here on earth.  Let's face it, it doesn't look good.  It can be downright scary.  I know God has not given me a spirit of fear.  This isn't a fear for myself.  It is a holy fear that I haven't done enough to reach people for the kingdom.  It's been a heavy conviction lately.  I'm working on it.  However, I feel so thankful for the promise that is my eternity.  God is so good.  He has never failed me, and He will guide me, and I pray, send me into opportunities to share Him and His promises with others.
Numbers 6:24-26
May the Lord Bless you and protect you.  May the Lord smile on you and be gracious to you.  May the Lord show you His favor and give you peace.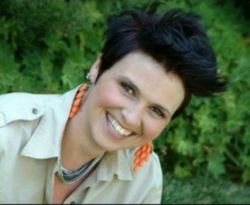 Latest posts by Bonnie Smith
(see all)