Love.
A word that is thrown around rather recklessly today, I love pizza, I love football, I love coffee, I love my wife, I love my kids, I love Jesus, I love church, etc.
Today, we love everything. But do we actually love anything? Because we may love pizza but do we love it
when it doesn't have the toppings we like? We may love football but what about when our team is down four touchdowns in the fourth quarter? We may love coffee but what if it's burnt. I sure hope our love for your
spouse, kids, and Jesus isn't as conditional as the rest but if we're honest with ourselves, a lot of times it is.
This is because we have the wrong idea of love.
To us, love is a feeling. Love is a particular fascination with a person, place, or thing. That is why love can seemingly come to a sudden end, it wasn't
real love it was a fascination that can quickly dry up, leaving us no longer loving that thing because it no longer meets the criteria we required of it. Therefore love is lost.
If love is that easily lost, it was never love in the first place.
We have the wrong definition of
love.
How is love defined in the bible? Let's look at 1 Corinthians 13, ya know that famous passage that Paul wrote for us to recite at weddings.
🙂 (Although, it is a beautiful passage to describe the way a husband and wife should love each other.)
Love is patient, love is kind. It does not envy, it does not boast, it is not proud. It does not dishonor others, it is not self-seeking, it is not easily angered, it keeps no record of wrongs. Love does not
delight in evil but rejoices with the truth. It always protects, always trusts, always hopes, always perseveres. Love never fails. – 1 Corinthians 13:4-8
That is what love should look like? Real biblical love is patient, it is kind, it does not dishonor others, it is no self-seeking, it doesn't get angered, it doesn't keep a record of wrongs. This love never fails. Yet in today's culture, love isn't any of those things,
it's is how something or someone makes us feel.
Did you know that your emotions lie?
Jeremiah 17:9 says
The heart is deceitful above all things and beyond cure. Who can understand it?
We can't trust emotions, and people we encounter aren't always going to make us "feel" how we want to feel. Love goes beyond emotions, it goes beyond feelings, it goes beyond understanding.
As a follower of Jesus, love must be a core principle in our life. Love must be at the forefront of each and every encounter. Love must be what we are known for. If we jump back a step in 1 Corinthians 13 and read the first three verses, we'll see what Paul is really talking about here.
If I speak in the tongues of men or of angels, but do not have love, I am only a resounding gong or a clanging cymbal. If I have the gift of
prophecy and can fathom all mysteries and all knowledge, and if I have a faith that can move mountains, but do not have love, I am nothing.
If I give all I possess to the poor and give over my body to hardship that I may boast, but do not have love, I gain nothing. – 1 Corinthians 13:1-3
The life of the believer must be a life of love.
We love because he first loved us. If anyone says, "I love God," and hates his brother, he is a liar; for he who does not love his brother whom he has seen cannot love God whom he has not seen. And this commandment we have from him: whoever loves God must also love his
brother. – 1 John 4:19-21
"You have heard that it was said, 'Love your neighbor and hate your enemy.' 44 But I tell you, love your enemies and pray for those who persecute you,
– Matthew 5:43-44
Sometimes this life would be easier if we ignored the words of Jesus… that's exactly what a lot of Christians do today. They get stuck on certain Christian values and ignore others. This is not the
life of a disciple, this is the life of Judas. We are called to be disciples, we are called to follow Jesus completely, not picking and choosing what values to uphold. Love everyone and allow God to work
out the rest.
But Jeff, they don't agree with me.
Love them and pray for them.
They cut me off in traffic.
Love them and pray for them.
They're a different political party.
Love them and pray for them.
They're of a different sexual orientation.
Love them and pray for them.
They're my ex.
Love them and pray for them.
They hate me.
Love them and pray for them.
We do not get to pick and choose who we love. We are commanded to love our enemies and pray for those who persecute us. 2021 is already beginning as a year of hate, in a year of hate, we are the Church and
we will follow Jesus. We will love and show the love of Christ to the world.
Love them and pray for them.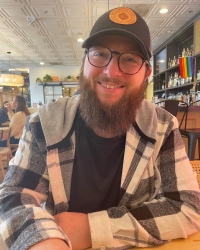 Latest posts by Jeff Evans
(see all)