I was on a facetime call with my daughter and granddaughter this morning.  Keep in mind, my granddaughter just turned one year old, so the conversation with her was mainly blabber and giggles, but as I was watching her, something from last week's sermon came to mind.  Little Juniper was basically using my daughter Meredith as a jungle gym.  She had no idea that at any moment, had my daughter not been watching her, she could have fallen, or slid, or bent the wrong way, and gotten hurt.  My daughter was pretty much anticipating Juniper's next move and direction.  After a couple of close calls, my little bug got tired of being held back and slid down to the floor to find something else to do.  
      Isn't that how we do it?  We pray and seek direction from God.  We hear what we believe to be His answer.  Some of us are pretty good about doing what we think He said to do.  We ask for continued guidance from the Holy Spirit to keep us on the path.  Then there are people like me.  How can I do this but make it my own?  I'll try to bend it, walk around it, stretch it, fold it, walk away and come back, find a slide to make it faster, you name it, I've tried it.  
      Do we take for granted that Jesus is always going to be there?  That may sound harsh, because yes, Jesus is always there, but I don't want to take advantage of that.  Some of us have been told that we can't make Jesus mad and that He wants us to be happy.  Let's just talk about that.  God does get mad.  We can do things that hurt Him, also, when someone or something comes up against His children, He will take action.  Ask the Hebrews.  They got that from both sides of the equation.  They were punished and defended.  Sometimes in the same event.  I don't want to grieve the Holy Spirit by trying to do it my way.  I want to be in God's will.  
      However, when I watch my grandbaby, she doesn't have the capability to doubt yet.  She moves, and daddy,  or mommy, or someone is going to be there to catch her, or make whatever ouchy she has, go away.  To her, that is just how life works.   She can not even comprehend that that wouldn't be the case.  She gets hungry, there is food.  She gets tired, she is put to bed.  She doesn't feel good, mommy or daddy holds her.  This is the faith of a child.
      I want this faith back.  I know, beyond a shadow of a doubt, that God is and does all these things.  But sometimes, I just don't believe it is true for me.   Jesus says in Luke 18:17, Truly I tell you, anyone who will not receive the kingdom of God like a little child will never enter it.  I need to do some things here.   One, I need to be like Juniper.  I need to believe that when I fall, (and I mean when, because I will), Jesus is there to catch me.  He will never leave me.  Two, I need to stop trying to take shortcuts.  There is a reason that the roads that lead to fulfilled promises are winding.  Jesus knows we need to learn stuff on the way.  Three, I need to rest in the peace that comes with this knowledge.  
Jesus, give me the faith of a child!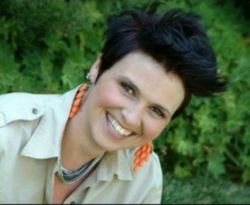 Latest posts by Bonnie Smith
(see all)