I am crafty – meaning I like to make things. Mostly I like to sew and make things with fabric, but I've tried lots of different things with varying degrees of success. My mom was crafty too, she could draw and paint beautifully and she taught me how to sew. I am not very good at drawing, but it always seemed so effortless to her, and I always wished she had developed her artistic ability more than she did. I also got my left-handedness from her – right out of the gate it makes you different from 87% of the rest of the folks in the world and I like that. She was not always easy to get along with and sometimes I still wrestle with that. Even though she is gone now intellectually I know she did the best she knew how. Just from being around her she modeled her creativity with her various projects and made it ok in our house to be "artsy". I am thankful for that; she wasn't a good student in school and not much help when it came to helping with homework (that was my dad's job) but she was always very encouraging when it came to us all doing anything creative. She wasn't a hugger and tenderness wasn't her strong suit but I've come to realize that her gift to us was in the way she fostered our creativeness and made it ok to be and to think differently than the crowd. 
I made it a point to be more demonstrative with my children. I wrote them notes of encouragement, I participated in activities they enjoyed, I did crafty projects with them. I paid attention to them but I'm not by nature the hugging" type either. So, I have to work at it, but I have also developed my own way of letting those I love know how I feel. This is where my craftiness comes in. I have made a lot of things for my family over the years from clothes when they were little to our Christmas stockings, quilts, pillows, stuffed animals, and jewelry. Currently, most of my free time is spent making all kinds of things for my little granddaughter. Some of these things have turned out better than others and some not so much but they are always received with an appreciation for the time I spent making them and I enjoy doing it. It occurred to me recently that what I have been doing with these gifts is laying down evidence not just in the physical way with a tangible item but also the gift of love because it's out of love that I do them. It's my way of telling them that you matter so much to me that I spent time with my own hands to create something special just for you. It's my way of saying I SEE YOU, please accept this as a remembrance of me and the love I have for you. Then I thought well…in a way that's what God did for us. He left a love letter for us in the wisdom of his book – the Bible. It tells the story of his creation; of a world, he has left for us with directions on how to use it. He wants us to remember him because he loves us, and he wants us to feel that love through the giving of his creation for us. 
Jesus also gave us the precious gift of salvation through his death and resurrection and was the model of kindness and compassion for us to follow of how to treat others. These gifts were given in the hope that we would appreciate them and be thankful for them and to love and respect the father and the son for all they have done for us. Is this not what I am doing in my own way? I am trying to leave evidence of my love for them that they can pull out and review, something that they can reflect on that reminds them of me. Jesus was the perfect gift – the perfect example and I am far from that, but I am trying in my own way to tell those I love that I SEE YOU…you matter to me. You are worth my effort. I'd like to feel like I am worth their effort too, that they SEE ME too. Do I do it for that recognition – no, I do it freely because I love them, and I want them to know it. But, like God, when the sentiment is reciprocated out of their own free will because they appreciate me, and they love me…well that's the best feeling in the whole world. 
We all have special gifts and talents we bring to the world. Some folks admittedly are more obvious than others with them, but we can all surely bless each other with them and in the doing, we show God how much we appreciate his gifts to us. We don't always know the impact of these little acts and the gifts we bring to each other and the world but hopefully, the ripple effect of our actions not only blesses someone here on Earth but pleases God in Heaven as well. 
Peter 4:10
As each has received a gift, use it to serve one another, as good stewards of God's varied grace. 
Corinthians 12:7
A spiritual gift is given to each of us so we can help each other.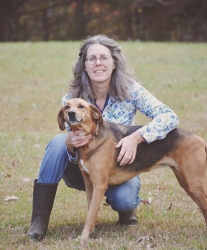 Latest posts by Lisa Podrecca
(see all)